10 August
Last update:

7.08.2020
London

20:08

New York

15:08

Sydney

11:08
09.08.2012
Fairmont Private High School- un viitor universitar garantat!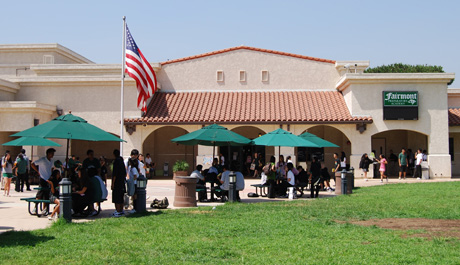 Fairmont Private High School este ca o familie mare si instarita in California's Orange Country. Situata in apropiere de atractii turistice ca Disneyland, Hollywood, the Getty Museum si plajele oceanului Pacific. Scoala Privata Fairmont este una dintre cele mai puternice scoli in intreaga Californie in domeniul pregatirii elevilor pentru a fi admisi la cele mai bune universitati din SUA si intreaga lume. Institutia se mindreste cu absolventii sai, dintre care 86 % anual sunt admisi la universitati americane, primind burse (conform datelor anului 2012- pana la 2,8 mln $ pentru studii, in jur de 17,722 $ pentru fiecare student). In mare parte succesul academic a absolventilor FPHS se datoreaza cunostintelor acumulate in urma programelor IB si AP. De asemeanea folositoare le-au fost lectiile in Academia de Arte Fairmont, fiind admisi la universitatile cu profile ca foto-designe si arte vizuale (Rhode Island School of Designe, the Pratt Institute, The School of Visual Arts, si Parsons School for Designe).
Fairmont Private Hish School ofera elevilor nu doar cunostinte pretioase, dar de asemenea ii educa sa simta responsabilitatea sociala si sa ajute celorlalti de la o varsta minora. Elevii participa la diferite proiecte sociale, incercand sa imbunatateasca viata intreagii societati umane.

Fairmont High School ofera:
College Preparatory
Honors with 21 courses
Advanced Placement with the ability to earn up to 22 college credits
International Baccalaureat
Medical Magnet program with direct-to-med college acceptances
Engineering Magnet program featuring college level courses

Programe academice:Languages (English and Afrikaans)
· Natural Sciences
· Social Sciences
· Economic Management Sciences
· Technology
· Life Orientation
· Arts and Culture
· Mathematics
Cerinte de admitere:
· Rezultate academice bune
· Test de limba engleza

Admiterea:
For Scholarship application for following academic year - February 1
For Summer School (May-August) - April 1
For Fall Semester (August-December) - July 1
For Spring Semester (January-May) - December 1
Daca aveti nevoie de siguranta in viitor- alegeti Fairmont Private High School!
EXCEL este reprezentantul institutiei in Republica Moldova. Noi va oferim suportul informational si ajutorul de care aveti nevoie pentru a studia in strainatate. Mai multe detalii referitor la studii, intrebari si precizari dorite contactati-ne la numarul de tel 0 22 224059 sau la adresa de e-mail: office@excel.md.