23 February
Last update:

18.02.2019
London

09:35

New York

04:35

Sydney

00:35
03.11.2009
Chevening Scholarships for Moldova!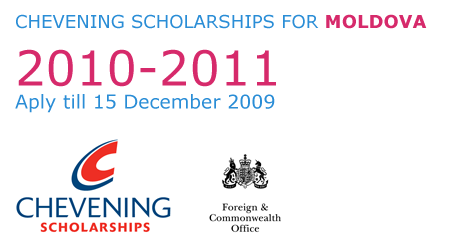 The British Government's Chevening Scholarships are among the most prestigious awards available to international students for study in the United Kingdom. They offer an ideal opportunity for scholars not only to study their chosen subject, but also to meet and network with their peers in the unique learning atmosphere that the UK provides.

The scholarships are targeted at academically gifted high-flyers who have the potential to become Moldova's leaders, decision-makers and opinion formers. Most scholarships are for postgraduate Master's degrees courses (MSc, MA, LLM) lasting for up to 12 months, but the option of undertaking a shorter period of study or research (minimum 3 months) is also available.

The programme is highly competitive. Applicants are assessed according to the merit of their applications, including their leadership ability, past achievements, qualifications (both academic and professional) and their English language ability. Successful applicants will demonstrate ambition, drive and leadership potential, a commitment to change and organisational development.

The scholarships are fully funded and cover return flights, course fees and living costs.
Eligibility criteria
Successful candidates will:
| | | | |
| --- | --- | --- | --- |
| | | | be under 35 years of age |
| | | | be citizens of Moldova and be resident in Moldova at the time of application |
| | | | should already hold a higher education diploma (completed Bachelors degree is a minimum requirement) |
| | | | have good written and spoken English; most UK Universities require a minimum IELTS of 6.5 for academic postgraduate courses |
| | | | have preferably at least three years' relevant work experience in the chosen subject area |
| | | | applications for MBA (Master of Business Administration) programmes are not eligible |
| | | | scholars not previously in receipt of a UK scholarship will generally receive higher priority, although each application will be judged on its merits. |
| | | | |
| --- | --- | --- | --- |
| | | | Economics |
| | | | European Law |
| | | | Public, Constitutional and Human Rights Law |
| | | | International Relations (including international security) |
| | | | Issues relating to EU Integration (including economics, migration, human rights and equality) |
| | | | Public Policy; Public Administration |
| | | | Energy Efficiency and Renewable Energy |
| | | | Climate Change |
To apply, please submit
on-line application
. The deadline for all Chevening applications from Moldova is 15 December 2009.
Applications can only be made online. Please study the
Guidelines
for filling an electronic application carefully. Printed applications or CVs will not be accepted.
Please check our
FAQs
section for more information.
The selection process is undertaken by the British Council in co-operation with the British Embassy Chisinau.
Initial selection will be by open competition based on completed application forms. Other supporting documents (copies of diploma, references, transcripts) are not required at this initial stage. Shortlisted candidates will be requested to submit them at a later stage. Application forms will be reviewed and a shortlist will be drawn up by the end of January 2010.
Shortlisted candidates will be invited for an interview in February–March 2010. Due to large number of applications we will not be able to respond to candidates whose applications were not shortlisted. Those who have successfully passed the interview will be asked to take a formal English language test (IELTS Academic) in March 2010.
Placement at a University
Chevening is a self-placement programme. If you are awarded with a scholarship, you will need to find placement at a UK university on your own. To find out about what courses are available in UK, please contact us